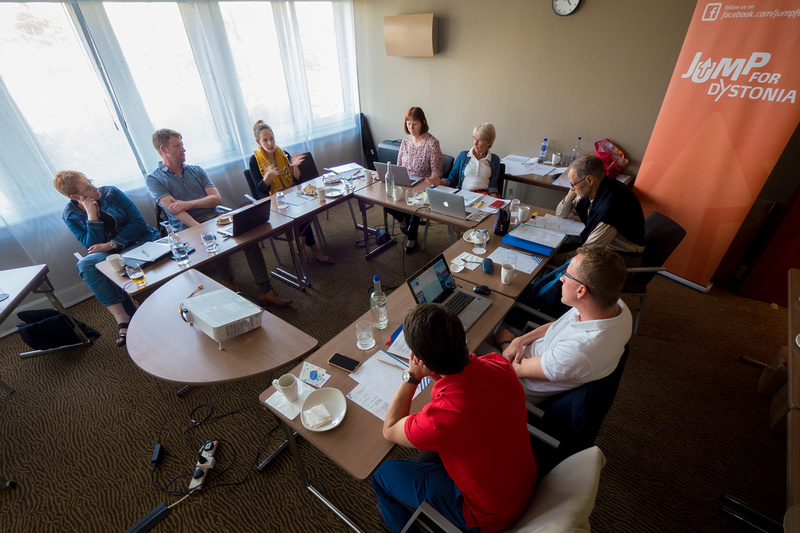 Dystonia Europe is managed by a Board comprising not less than five and not more than eight voting members. Each candidate for election shall be a member of the OM (Ordinary Member) organisation which nominates him/her.  No single organisation shall have more than one elected member on the Board of directors and there can be no more than two DE Board members from any single country.
Dystonia Europe board members shall work for the aims and interests of the whole association and shall not represent the sole interests of their Dystonia Member organisation in that role.  Representation of a single Ordinary Member's interests is the role of the member's appointed delegate at General Assemblies.  When a delegate is elected or appointed to the DE Board he/she will lose his/her capacity as delegate and the Ordinary Member involved must then appoint a different person as its delegate to the General Assembly.
The estimated time investment for board members is between 10- 15 days per year including travel. It is an unpaid post, travel and subsistence expenses to undertake board business are covered by Dystonia Europe.
Board meetings are conducted in English and documentation produced in English therefore good knowledge of English is requested.
The role of board members, which is essentially strategic, rather than operational, is outlined below.
1.1   GENERAL RESPONSIBILITIES OF DYSTONIA EUROPE BOARD MEMBERS
Review board agenda and supporting papers to provide comments, suggestions and approval at the board meeting;
Advise on engagement of Dystonia Europe in various projects.
Contribute to and review annual work plan and annual report;
Provide support in crisis scenario and risk management;
Respond to ad hoc written or telephone consultation from President, Director on board matters;
Act as Dystonia Europe ambassador at occasional conferences and meetings in areas of key interest/expertise supported by the secretariat. Attendance is agreed in accordance with key criteria based on added value to Dystonia Europe and its membership of Dystonia Europe participation;
Prepare and attend AGM; assist and support the implementation of our annual Dystonia Days.
• Prepare and attend Think Tank meetings with DE partners twice a year.
Support Treasurer and Director on finance issues and where possible President and Director on fundraising issues;
• Support the annual online campaign "Dystonia Awareness Month" in September.
• Contribute to newsletter and news blog actively by providing 2-3 articles per year.
Report back to own organisation of Dystonia Europe developments and identify potential collaboration.
1.2   HOW MUCH TIME DO YOU NEED TO PLAN
Face to face board meetings take place three times per year in a European city, and occasional teleconferences are organised in between on an ad hoc basis. The elected officers, President, Vice President and Treasurer, meet more frequently to prepare board meetings, and to discuss more detailed issues raised by the Director requiring action in between board meeting.
1.3   YOUR PROFILE
Legitimacy: to be eligible as a candidate, you need to be an individual nominated by a Full member of Dystonia Europe
Knowledge of the patient community.
Commitment: we are looking for committed candidates who are willing to take the work of Dystonia Europe forward. Candidates should be ready to contribute with time and ideas.
Expertise: Dystonia Europe recognises the need for multidisciplinary skills within its board. We are therefore looking for candidates with varied expertise and skills. We strongly encourage individuals with a specialised background to apply and highlight their expertise in their application.
Vision: Dystonia Europe is willing to give its board members specific missions according to their interests. If you are interested in driving forward the work conducted on a peculiar Dystonia Europe objective, please indicate so in your motivation letter.
1.4   APPLY NOW
To apply, please fill in the nomination form and send it to the Secretariat of Dystonia Europe, email sec@dystonia-europe.org by 30 March 2021. We will be in contact with you shortly regarding the next steps. We look forward to receiving your application!
The Dystonia Europe Team