David Marsden Award 2022
The award was introduced by Dystonia Europe in 2003 and was presented every two years to stimulate research on dystonia, especially by young scientists in Europe. From 2022, the award is presented every year.
Professor David Marsden (1938 – 1998) was one of the leading neurologists in Europe and DE wishes to honor the enormous part he played in developing knowledge of and interest in dystonia.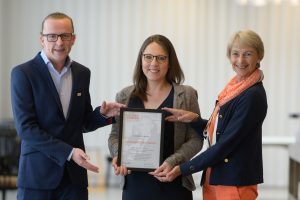 The David Marsden Award 2022 was awarded to Dr. Susanne Knorr for her paper:
"The evolution of dystonia-like movements in TOR1A rats after transient nerve injury is accompanied by dopaminergic dysregulation and abnormal oscillatory activity of a central motor network".
The research was performed at the department of Neurology, University Hospital of Würzburg, Germany Dr. Knorr is an expert in basic research of movement disorders.
Dr. Knorr was presented with the award by Dystonia Europe President Adam Kalinowski at the Dystonia Europe 29th Annual Conference and Dystonia Days 2022 in Copenhagen, Denmark last Saturday. Dr. Knorr expressed her thanks to the judging panel for selecting her paper as well as to DE and Ipsen. She then presented her work.
About the winner:
Dr. Knorr is an expert in basic research of movement disorders. She studied biology at the University of Wuerzburg. In 2015, she started her PhD thesis in field of dystonia in the lab of Chi Wang Ip and Jens Volkmann. Currently she is a postdoctoral research associate in the experimental movement disorder group of Chi Wang Ip. During her many years of experience as a technician and a biologist in basic research, she gained a wide range of knowledge in molecular biology, biochemistry, behavior analysis, animal stereotactic surgeries, and experimental DBS.
About the research:
Basic research is important to deepen our understanding of disease pathomechanisms and finding new therapy strategies. For this, the use of a suitable disease model is crucial. In dystonia research, animal models are highly relevant, because it is assumed that the network of the brain is affected by the disease and therefore we need a model comprising different cell populations, different brain structures and interconnections, which cannot be guaranteed in petri dish experiments. However, for DYT-TOR1A dystonia no animal model exists that reflects every aspect of the disease pathology. Either the DYT-TOR1A models are genetically modified animals without showing a dystonic phenotype, or the animals show a dystonic phenotype without a genetic background. Our aim was to generate an animal model, which mimics human dystonia by combining a known genetic dystonia background with a dystonic phenotype. In the genetically DYT-TOR1A rat model ∆ETorA, which expresses the human mutant TOR1A protein, a crush injury of the right sciatic nerve was implemented as an environmental factor to trigger a dystonic phenotype. Behavioral analyzes revealed dystonia-like movements in the nerve-injured ∆ETorA rats. Further analysis of this model showed abnormalities in the striatal dopamine metabolism as well as alteration of theta and beta oscillations in the brain network of nerve-injured ∆ETorA rats. In addition, we could demonstrate that deep brain stimulation in dystonic ∆ETorA rats reduced dystonia and normalized pathologic brain network oscillations. This study forms the foundation for further analyzes of pathomechanisms and treatment strategies by providing a new DYT-TOR1A rodent model.
The award is generously sponsored by:

General Information
The David Marsden Award is presented every year.
The Award sum is € 10,000 for papers (i.e. manuscripts for original publication – no abstracts) on aetiology, pathogenesis, diagnosis or therapies in dystonia or on the psycho-­‐social effects.
Applicants should be under 45 years of age.
Submitted papers may have been published within the last two years.
Unsuccessful applicants may re-­‐present their papers in the following year, if fundamental new scientific findings are involved.
The applicant should be the first author.
The research must have taken place within Geographical Europe.
Procedure
Papers should be submitted by email to the DE Secretariat with a short Curriculum Vitae and a declaration that the paper has not been submitted for any other scientific awards.
The deadline for submissions is 28 February 2023.
The evaluation of papers will be carried out by the Dystonia Europe Medical and Scientific Advisory Board and a recommendation made to the DE Managing Board.
The winner will be invited to make a presentation at the DE annual conference in Dublin, Ireland 2023.
Applications for the DMA 2023 is open from 1 September 2022 through our DMA website
Past Awardees