Adam Kalinowski then introduced us to the David Marsden Award 2021 which is given in his name as recognition for all the research work he did and encouraged. Adam also thanked Ipsen who sponsored this award.
Adam was delighted to announce the winner to be Dr Martin Reich from Germany.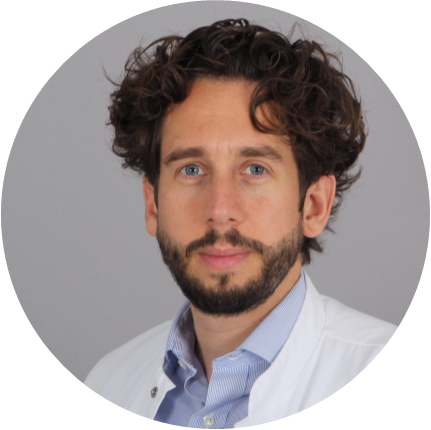 Dr Martin Reich, Julius Maximilians University, Neurology Department, Würzburg, Germany
Dr Martin Reich then went on to present the research paper with which he won the David Marsden Award.
Martin and his team have developed a complex computer programme which can predict how the brain will react to the levels of current emitted by their Deep Brain Stimulation device.
Currently a deep brain stimulation specialist will work with the patient to determine the best levels of output to give them the best result possible. There are millions of combinations possible and this process is time consuming and expensive, it can take months to find the best option for each patient.
Dr Reich and his team have developed mapping which shows various electrode placements and predicted outcome for each placement. He could then forecast how well the patient would respond to DBS with electrodes placed using this probabilistic mapping.
This process is quicker and more accurate than the experimental approach to determining the best levels for each patient. I'm sure you can all imagine how that would improve the outcome for all DBS patients, it is no wonder that he won this year's David Marsden award! Congratulations Martin, David would certainly have approved!
Another question and answer session came next and Professor Bhatia and Dr Reich had many questions to answer. Again Rachel and Monika collated the questions and asked our two speakers for their responses.
The questions were very varied and ranged from questions about current research to whether or not DBS patients can scuba dive. To my amusement Prof Bhatia answered all his questions from The Oval while he was watching India and England play cricket!
We enjoyed another coffee break and came back to Dr Kasia Smilowska talking to us about her two surveys. One has already been launched and is available on the DE website, that one is all about dystonia and how it may or may not affect sexuality. Her next survey will be launched later this year and is about diet and dystonia.
If you wish to take part in either or both surveys please look on the DE website. https://dystonia-europe.org/projects-1/projects/dystonia-survey/
The final presentation of the day was Adam showing us all the latest version of the MyDystonia app. As mentioned by at least two of our speakers today it is so important to keep a record of your symptoms so you can show your consultant how your symptoms have been since your last treatment. The MyDystonia app is the perfect way to do this, it can be downloaded from the appropriate app store for your smart phone.
What a great day! Approximately 100 people joined in using zoom. I know I learned a lot of new things and particularly found news about treatment options and    Dr Reichs research very interesting and promising for the future of treatment for all dystonia patients.
Hope to see even more at the next conference in 2022, we may even be face to face for that one!
Gill Ainsley
Secretary, Dystonia Europe