This year Dystonia Europe is celebrating its 30th Anniversary.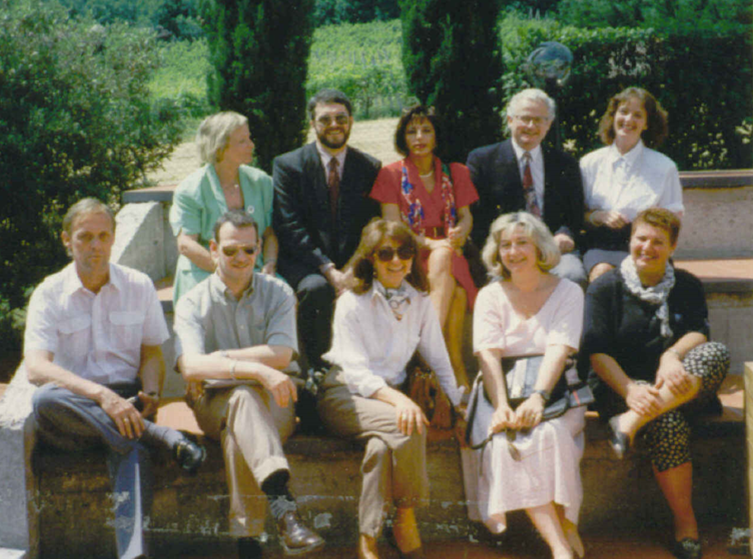 Back row: Didi Jackson, Germany; Alistair Newton, UK; Feli Justo Alonso, Spain; Alan Leng, UK; Gunilla Noren, Sweden.
Front row: Tore Wirgenes, Norway; Jean-Marc Bildan, France; Laura Latini, Italy; Maja Relja, Croatia; Beppy Smitshoek, Netherlands.
Absent: Kai Naunung, Denmark
Our organisation was formed as an association of national dystonia patient groups in Spoleto, Italy, on 18 June, 1993.  The name was European Dystonia Federation (EDF) This process had taken almost a year, with the first contacts at a workshop in Munich, followed by two preparatory meetings in Barcelona and Paris. The 10 founding members were: Germany, the UK, Spain, Sweden, Norway, France, Italy, Croatia, the Netherlands and Denmark.
Today we are 23 member organisations from 20 countries in Europe.  On the weekend of 2-3 June we will meet in Dublin to celebrate the 30 years of our organization. We are looking forward to a very special weekend in Dublin.
Unfortunately one of our founders Alistair Newton cannot join us in Dublin but he has sent  the below message. We thank Alistair for all that he has done throughout the years for not only dystonia patients but also for the European neurological patient community.
Monika Benson
Executive Director 
Dystonia Europe