During the last week of March the second part of the workshop "Physiotherapy and Cervical Dystonia" took place at the Scandic Plaza Hotel in Umeå, Sweden. The first part of this training took place last October.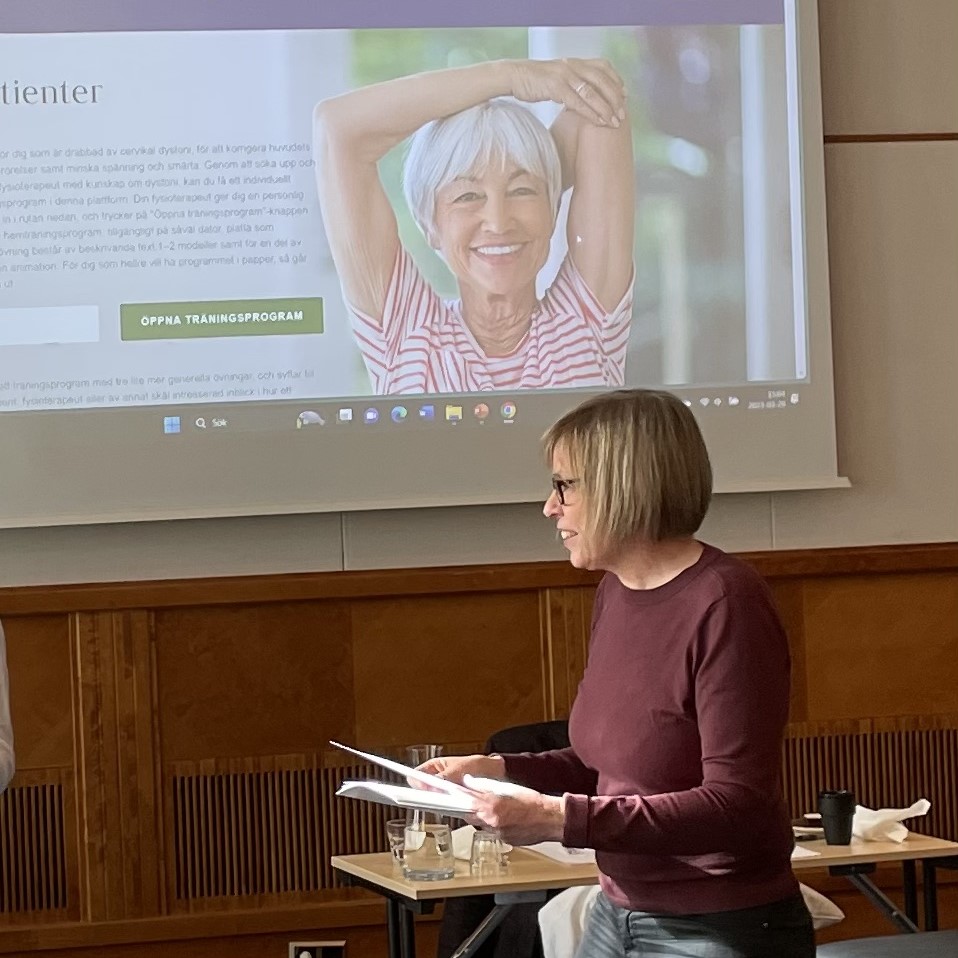 Physiotherapist Johann Blom
Together with Göran Olsson from Swedish Dystonia Education, Physiotherapist Johanna Blom welcomed the participants to Umeå.
Johanna started the day with a short summary of cervical dystonia – symptoms and characteristics. Focus for the first day was on medical history and examination of the patient. When meeting a cervical dystonia patient for the first time it is important to ask thoroughly about the dystonia. What does the patient feel? When did the dystonia start? Is there dystonia in the family? What makes it worse or better? How is the dystonia in different positions? The 13 participants had been divided into 5 groups at the first meeting. Each group was given the assignment to work with a dystonia patient at their home clinic. Now it was time to present
this work to the group with video recordings and analyses. Each group had done an excellent job with their patient and his/her dystonia.
At the end of the day Monika presented her own 'Living with dystonia story' sharing how the first strange symptoms appeared about 20 years ago and how she is managing her dystonia today.
On the second day Dr. Ghada Loutfi from Umeå University Hospital delivered a presentation on Dystonia and Brain Plasticity.  Neuroplasticity is the brain's ability to change and adapt due to experience. It is an umbrella term referring to the brain's ability to change, reorganise, or grow neural networks. This can involve functional changes due to brain damage or structural changes due to learning.
Then followed presentations from all groups again with the focus on how to treat cervical dystonia patients. The groups showed videos of their patients and how different exercises can show a positive result.
At the end of the day the participants each received a diploma. There was much positive feedback and one participant said: "very good course which is immediately clinically useful."
We thank Desitin and Ipsen for their support and making it possible to realise this important workshop and of course Physiotherapist Johanna Blom for sharing her skills and expertise.
Monika Benson, Executive Director