In a meeting room, decorated for the Anniversary, the President Johan Arnfinn Warvik of the Norwegian Dystonia Association (NDF), welcomed about 60 members attending the Annual General meeting and 30th Anniversary Celebration at Quality Hotel Olavsgaard, Skjetten, Norway.
Many attended which indicates that the organisation is very active and important for many. In addition Johan Arnfinn was happy to announce that the association has an increasing number of members.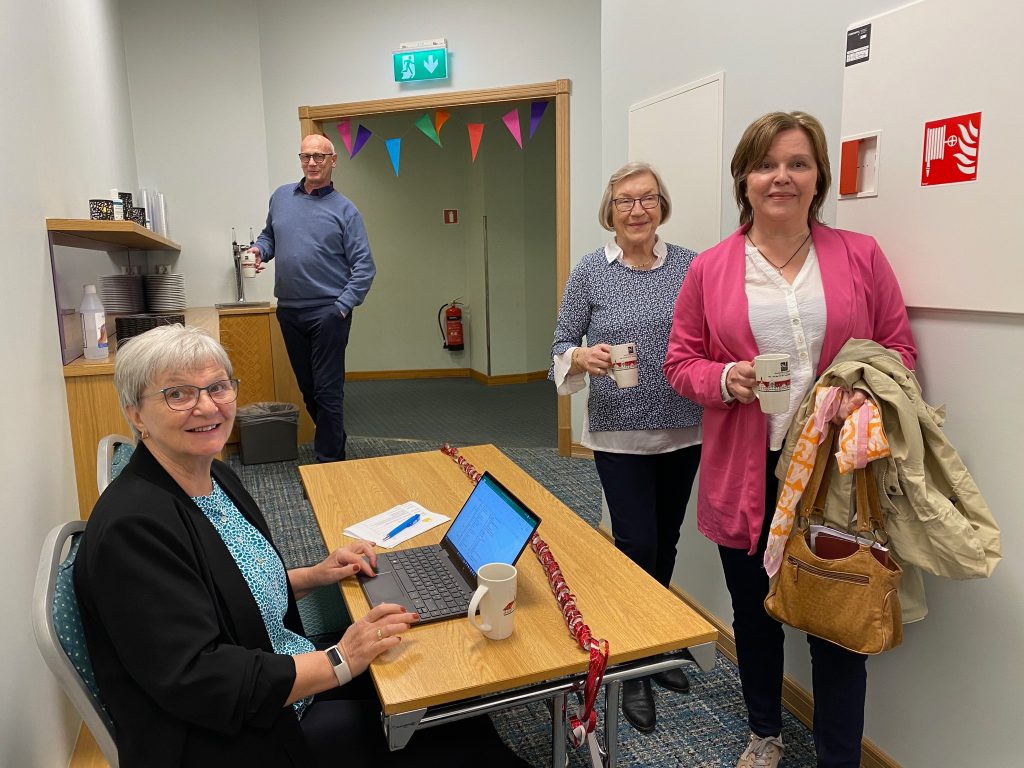 Registration, Vigdis Viken, John Berget, Aud Engen and Teija Pekonen
The local activities are also increasing, which is according to the goals of the association. To achieve this the board has among other things a strategic plan to hold board meetings alongside local meetings which has shown to be successful.
The association now has 640 members and for many of them the Newsletter 'Dystoni-nytt' which is published twice a year, is the most important channel for information. Due to this the board have worked on renewing the newsletter and Johan says they are very happy with the result.
Johan also said that in future the association will address more rare types of dystonia, as in recent years the focus has been on cervical dystonia. As a part of this NDF will arrange a conference for Spasmodic dysphonia, also known as laryngeal dystonia, at Olavsgaard 6th and 7th September this year.
Physiotherapist Johanna Blom gave the main presentation at this meeting. She presented the tool she has developed with the support of Dystonia Europe and Eelco Uytterhoeven, a digital platform with exercises for cervical dystonia. This platform is free to use for physiotherapists. They can create personal training programs for their patients. Today the platform consists of 115 exercises. The presentation was very well received by all participants. Many used the opportunity to ask questions and Johanna answered them all.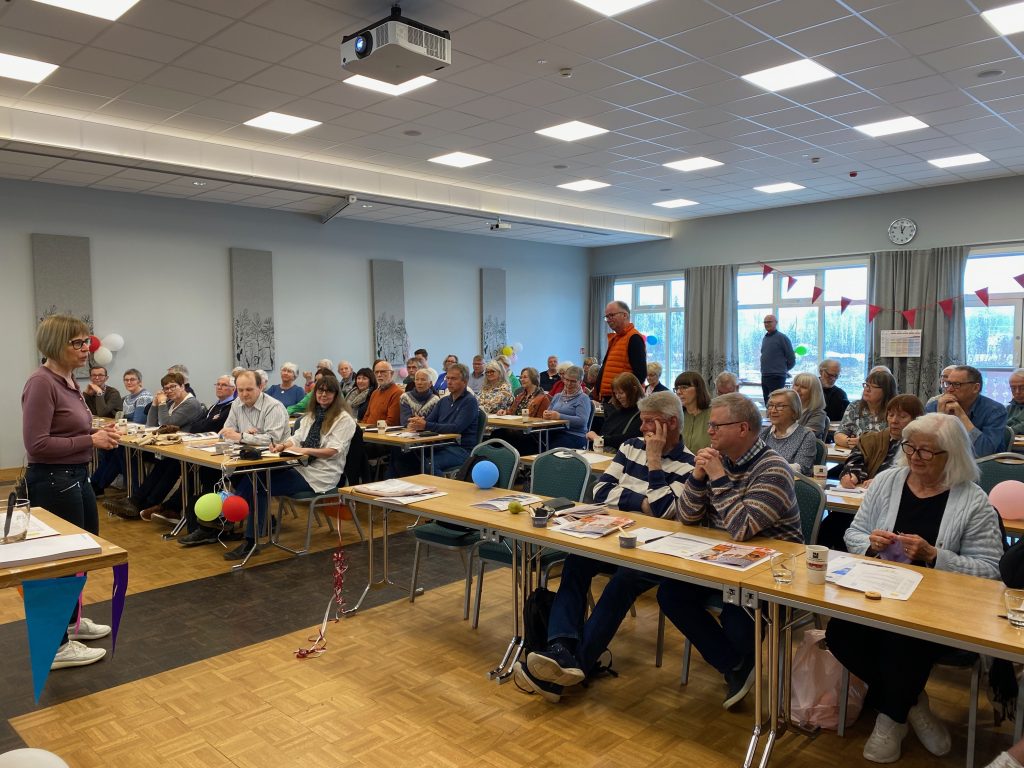 Johanna Blom explains The Physio Therapy Exercise Hub
– A fantastic presentation — some of the best I have heard at dystonia meetings. The way Johanna gave this lecture, it is clear that she has a genuine interest in helping dystonia patients. Quoted after the presentation by Siv Berit Sjøen.
The second speaker was Aud Engen, who has the more rare diagnosis blepharospasm in addition to oromandibular dystonia which in combination is called Meige syndrome.. Aud has symptoms and is affected by the condition, but botulinum toxin injections do help.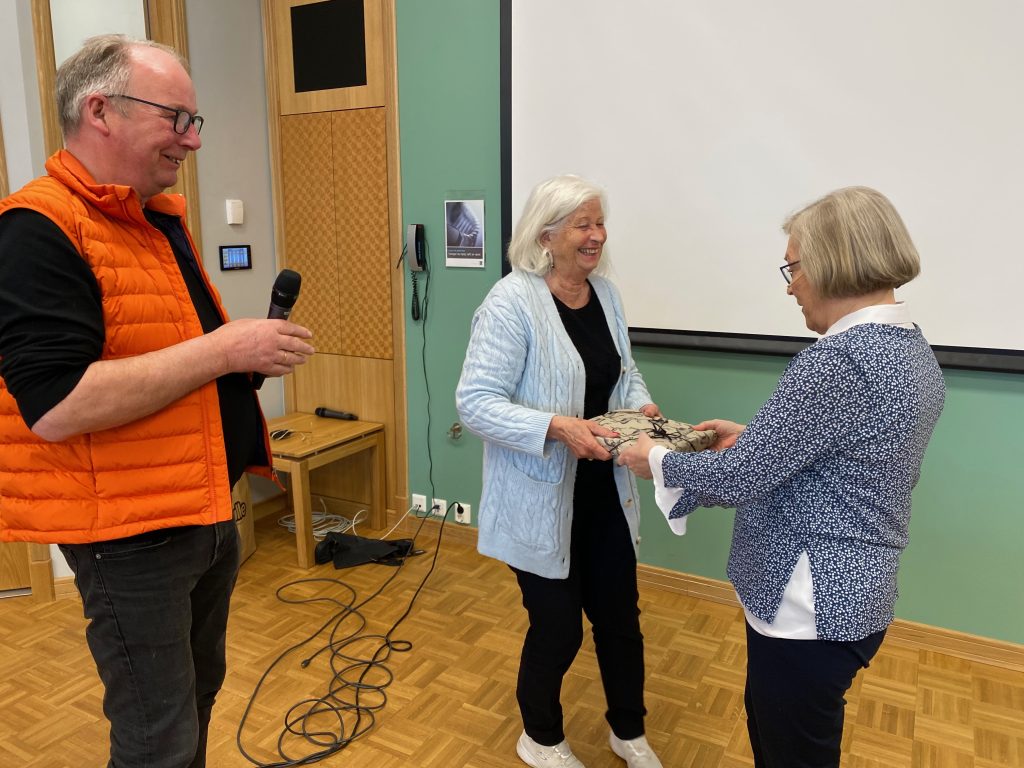 From left, President Johan Arnfinn Warvik, Vice President Sissel Buskerud and Aud Engen. 
After the presentations the Annual General Assembly was held with presenting and approval of the annual report 2022 and finances 2022. NDF has good finances, and both were approved unanimously.
Johan was re-elected as President – with applause. He had planned to step down after serving as President for 6 years, but said he was willing to do two more years as there were no other candidates.
During the Anniversary dinner, we enjoyed a buffet of cold and warm food served by the clever chefs at Quality Hotel Olavsgaard.  Gifts were presented along with kind words to the board from Merete Avery, Dystonia Europe and the invited guests from our neighbouring countries; Bengt-Erik Calles, Swedish Dystonia Association, Jukka Sillanpää, Finnish Dystonia Association and Pia Vejle, Danish Dystonia Association.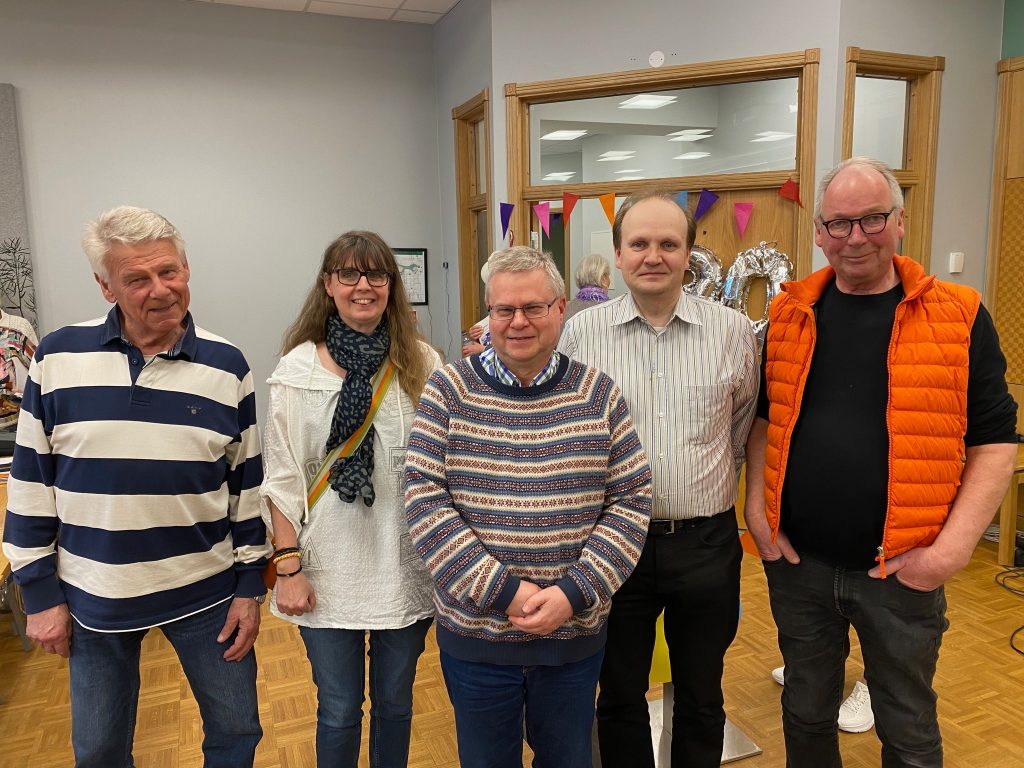 From left, Bengt-Erik Calles and Ulf Borg from Sweden. 
Pia Vejle, Denmark, Jukka Sillanpää, Finland and Johan Arnfinn Warvik, Norway.
All spoke well of the work done in Norway and thanked everyone for their good cooperation.
It was a very positive meeting. Rolf Villanger made it even more successful with a word puzzle that he had made for us to solve in groups.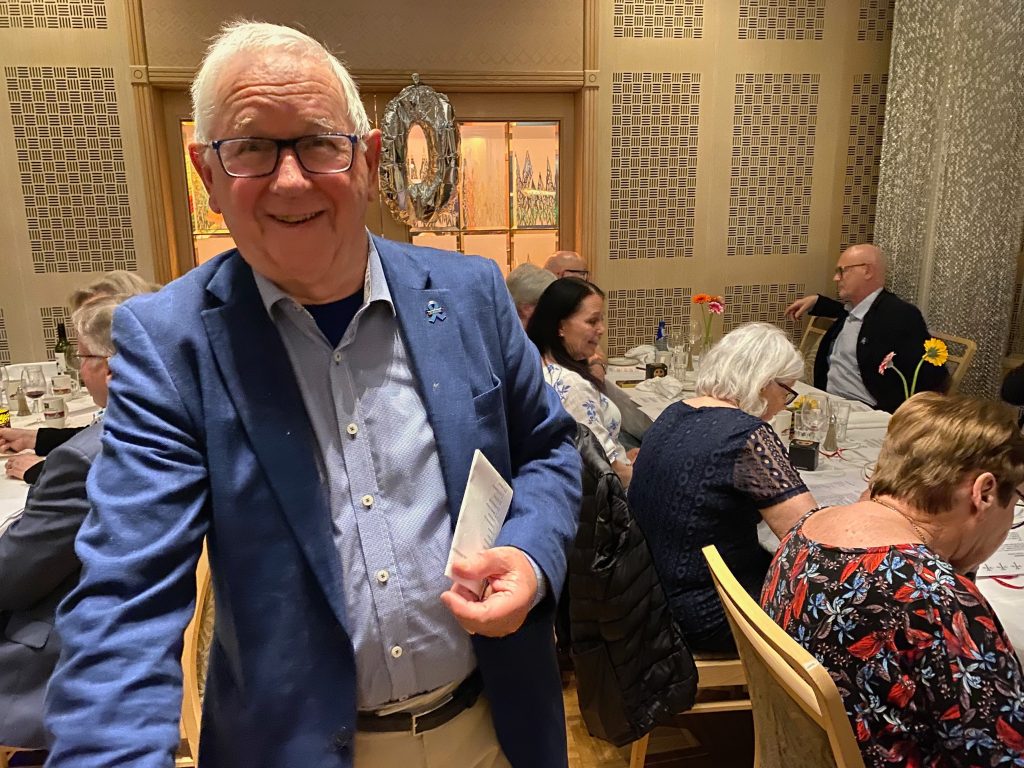 Rolf Villanger
Vidar Bjørkli, Norwegian Dystonia Association
Translated from Norwegian to English, Merete Avery