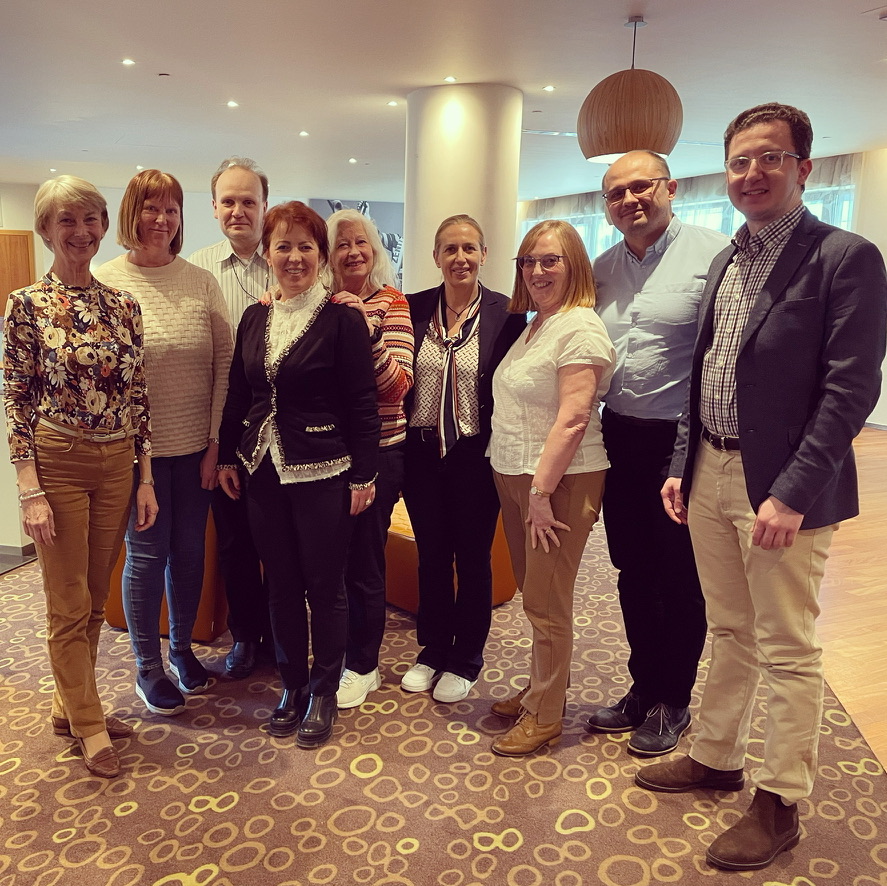 From left: Monika Benson, Merete Avery, Jukka Sillanpää, Catalina Crainic, Sissel Buskerud, Susanne Proesche, Ipsen, Gill Ainsley, Oleks Gorbenko – Ipsen and Abdullah Alghourani – Merz
Dystonia Europe Winter Think Tank 2023 was held in Brussels on 1st March. Members of the Think Tank are our Platinum sponsors: Ipsen, Merz and Medtronic and all DE board members and staff. At this meeting Medtronic was unable to attend.
Our President Edwige Ponseel attended via zoom and welcomed all to the Think Tank meeting and then everyone introduced themselves. Executive Director Monika Benson gave an update on the activities that DE is involved in. The activities on social media are increasing steadily as are our followers.
We discussed some of our projects which were well received by our sponsors and they gave us some great input and ideas.
We also worked in groups and did brainstorming on some projects. Again our sponsors were a huge help with one sponsor in each working group, we came up with some really good ideas on how to raise awareness, empower health care professionals and empower patients. These ideas will be discussed fully at a later date.
Finally we  presented the Dystonia Awareness Videos to the Think Tank participants who were all  moved by these short video clips that give a realistic and emotional insight into how it is to live with different types of dystonia. Each year Dystonia Europe is involved in Dystonia Awareness Month (DAM) in September and this year we plan to use these video clips that will soon be finalized. We are already looking forward to our next TT in October using zoom.