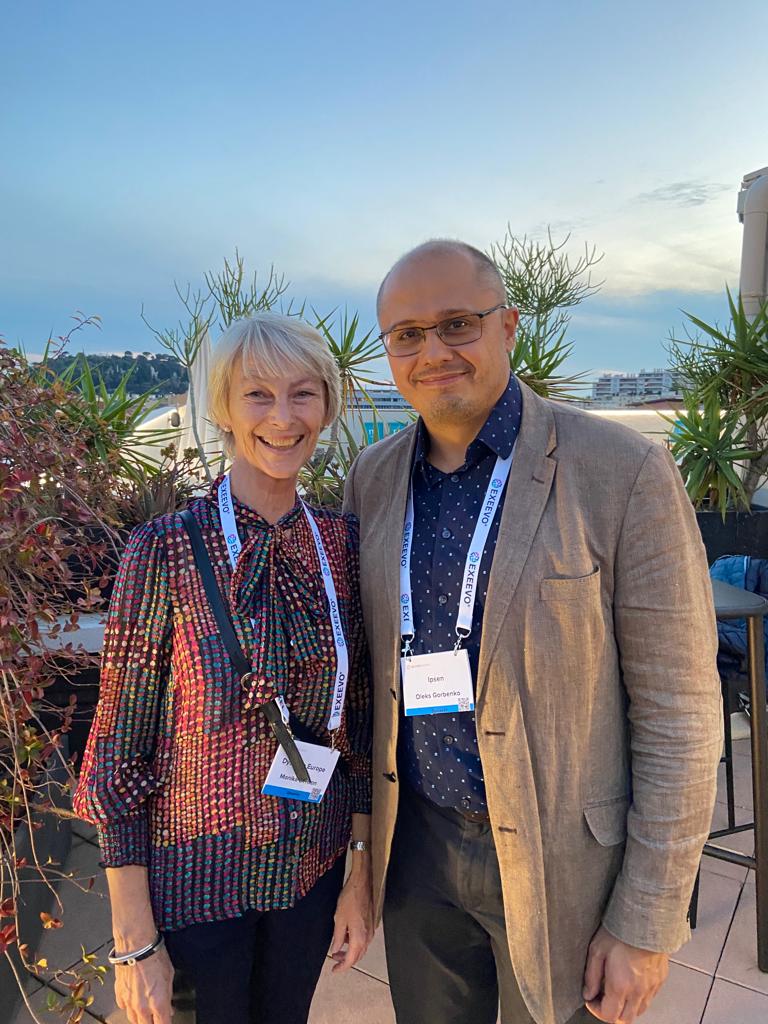 Photo: Dystonia Europe Executive Director Monika Benson and Dr. Oleks Gorbenko, Ipsen
Last October the Reuters Event: Pharma Europe 2022 took place in Nice, France.
This meeting is for pharma pioneers and healthcare  innovators and had more than 1000 attendees from across Commercial, Sales, Marketing/Digital, IT, Medical, Patient Engagement, Market Access, and RWE (Real World Evidence).
The 3-day meeting included a broad variety of  interesting sessions. During the Patient Engagement track Dystonia Europe Executive Director Monika Benson had been invited to co-present with Dr. Oleks Gorbenko from Ipsen. Together they presented the work on the "Cervical Dystonia Patient Journey".  For more information on the patient journey see:
https://dystonia-europe.org/2022/05/first-ever-patient-experience-map-in-cervical-dystonia-reveals-multiple-barriers/
Monika and Oleks pointed out the importance of working on projects like this together. All stakeholders contribute and benefit from such collaborations. The cervical dystonia patient journey will now serve as the reference for Dystonia Europe when defining strategy and activities for the next few years.
Monika Benson
Executive Director, Dystonia Europe