Last May EFNA, the European Federation of Neurological Associations, celebrated its 21st Anniversary in Brussels, Belgium. The organization was founded in 2001 and the initial plan was to hold the 20th Anniversary event last  December in 2021. Due to the pandemic it had to be  postponed.
It was a happy reunion in Brussels where many participants had not met in over two years. There were 34 guests, including representatives of 14 of EFNA's 20  member organisations, along with representatives from EBC, EAN and industry partner groups.
EFNA President Joke Jaarsma welcomed the participants and wished everybody a joyful evening. Then followed EFNA Past President Audrey Craven from Ireland who   shared some good memories from the history of EFNA.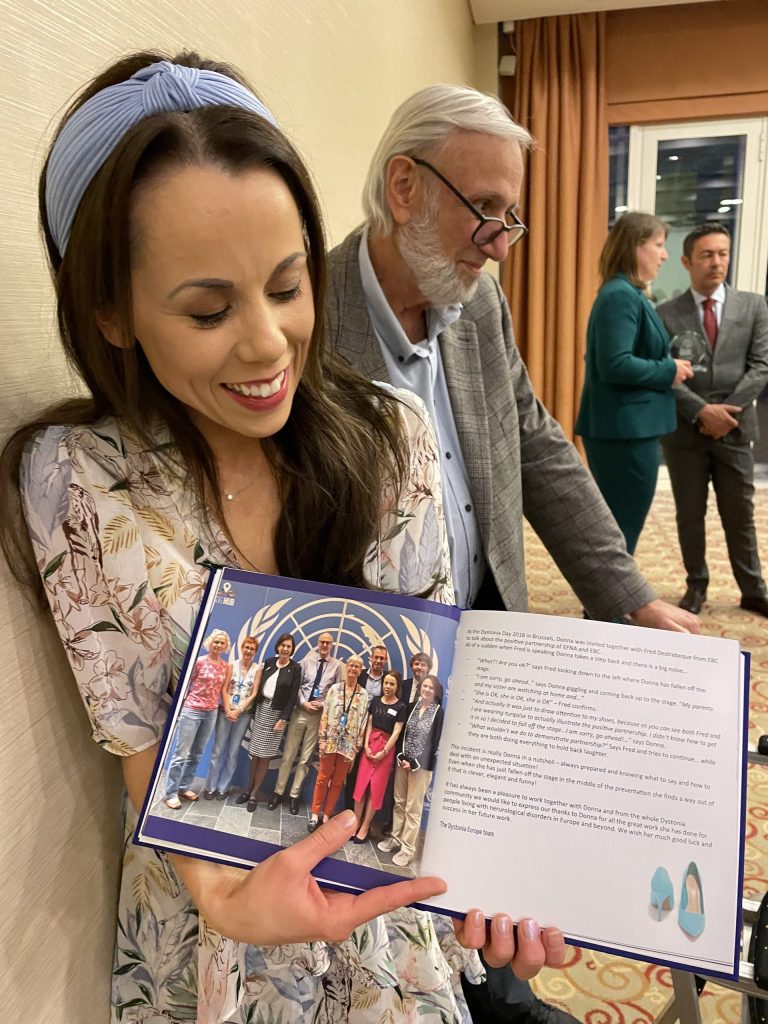 Donna Walsh with the memory book
Last year Donna Walsh left her position as Executive Director at EFNA. She attended the event as well and Joke gave a presentation to her and thanked her with gifts and a memory book.
The second half of the evening was dedicated to the EFNA Advocacy Awards Ceremony. These awards recognise the contribution of an individual or group to the development and promotion of advocacy for people with neurological disorders in Europe. This year, the awards focus on the topic of 'Advocating for Gender Equity in Neurology'.
Gender equity means fairness of treatment for women and men, according to their respective needs. This may include equal treatment or treatment that is different, but which is considered equivalent in terms of rights, benefits, obligations, and opportunities.
This year's Awards have three categories – Outstanding achievement by an individual advocate, Outstanding achievement by a medical professional/researcher and Outstanding achievement by an organisation. Through these Awards we can recognise the efforts of those whose work has raised awareness of the difference in impact of neurological disorders on women and men, has led to concrete actions and has addressed identified challenges.
The winners are:
Chantel Fouche, Treasurer of ADHD Europe, Belgium
Outstanding achievement by an individual
Prof. med Mauro Manconi, Switzerland
Outstanding achievement by a medical professional/researcher
The Neurological Alliance (England)
Outstanding achievement by an organization (represented by Georgina Carr)
For more information on the winners and their achievements see:
https://www.efna.net/advocacyawards2022-winners/

Photo: EFNA President , Joke Jaarsma (left) handing out awards
Monika Benson, EFNA Vice President and Executive Director Dystonia Europe