Dystonia Europe held its 29th Annual General Assembly on 20 May at Hotel Scandic Copenhagen in Copenhagen, Denmark. It was a wonderful reunion for many of the DE members who had not met face-to-face since London 2019.
A total of 27 participants from 13 member associations participated. Dystonia Europe President Adam Kalinowski welcomed all and then everyone present at the meeting introduced themselves.
There was a new member application from a recently   founded dystonia patient association in Slovenia. After the founder and President Tedy Grbec had presented the organisation the members all approved the membership. It is exciting to see Dystonia Europe growing and there are now 23 member organisations from 20 countries in Europe.
The members also agreed to keep the membership fee at €100 per year.
There was neither re-election nor election to the board. The current board consists of:
President Adam Kalinowski, Poland
Vice President Edwige Ponseel, France
Treasurer Sissel Buskerud, Norway
Secretary Gill Ainsley, UK
Board Member Catalina Crainic, Romania
Board Member Jukka Sillanpää, Finland
Staff members are: Executive Director Monika Benson from Sweden and Operations Manager Merete Avery from Norway.
Paid consultants are: IT developer Eelco Uytterhoeven, The Netherlands, and Social Media Specialist Amanda Benson, US.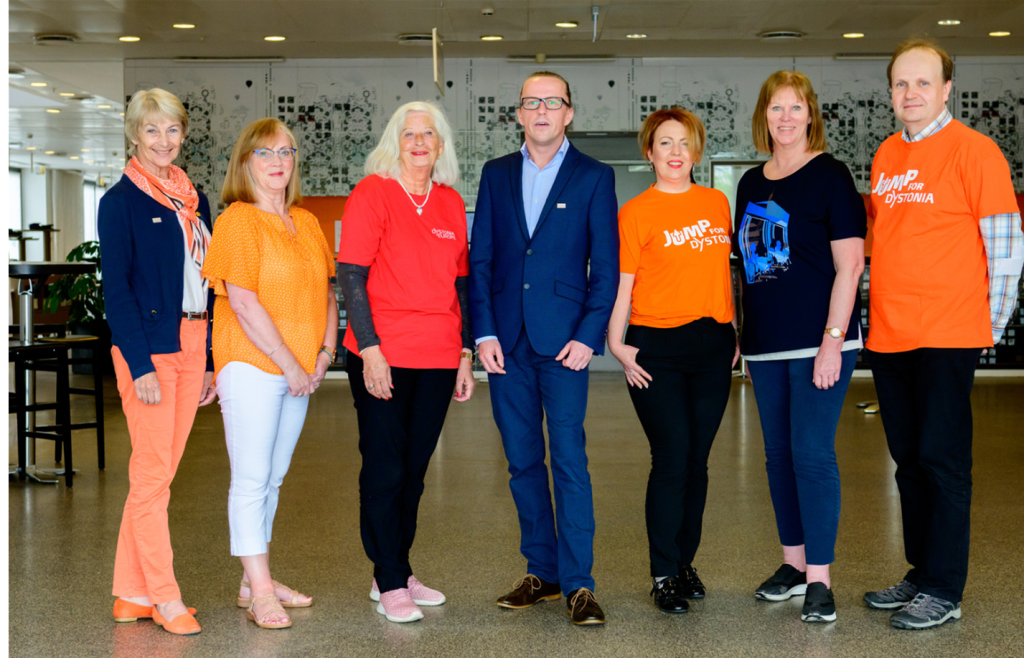 From left: Monika Benson,  Gill Ainsley, Sissel Buskerud, Adam Kalinowski, Catalina Crainic, Merete Avery and Jukka Sillanpää. Vice President Edwige Ponseel not present.
Due to new regulations of the Belgian law for non-profit organisations work is being done to update the Dystonia Europe statutes accordingly. Information about this work will be sent out to members at the beginning of autumn.
As usual Monika presented the work of the organisation for the past year. All of this can also be read in the Annual Report 2021. Sissel presented the Annual Accounts 2021 which showed a positive result. The Budget for 2022 was also approved by the delegates.
Dystonia Europe IT Advisor Eelco Uytterhoeven was  connected via Zoom and gave a presentation on the  latest developments of MyDystonia 2.0. The plan is to promote the App in the coming months and the next step will be to translate into other languages.
Monika shared some of the plans for the upcoming Dystonia Awareness month next September, and how we will work on sharing dystonia facts, inspirational quotes and dystonia testimonies throughout the month. More information on what we plan to do on page 14.
Next year it is the 30th Anniversary of Dystonia Europe. This will take place in Dublin alongside the International Dystonia Symposium 1-3 June.
We hope to see as many members as possible there.
Monika Benson
Executive Director
Dystonia Europe