The Dystonia Europe Team is very excited about the upcoming awareness month and all the activities that will take place.
We kick off the month with our Annual Dystonia Conference: Dystonia Day 2021 on Saturday 4 September. For program, speakers and link to registration see:  https://dystonia-europe.org/dystonia-day-2021-online/
We hope to see a big audience from around the world for this event. After the conference you will have a better idea of what dystonia is, what treatments are available and what is going on in the field of research.
On our social media channels we encourage you to engage with us and let us know what you do to Escape Dystonia! During the month you will see the Dystonia Europe Board Members and Staff and hear what they do to escape dystonia, manage symptoms and feel better. Dystonia Europe Treasurer, Sissel Buskerud, says: "I have a puppy called Alfred. To take care of him makes me happy. He is the reason why I live well with my Dystonia."   President Adam Kalinowski says: "For me doing yoga exercises help me feel better not only physically but also mentally, in life with cervical dystonia".
What do you do to escape dystonia and feel better? Do you engage in a sport or a hobby? Do you have a passion for something that helps you forget about your dystonia?
Let us know how you manage your dystonia and send a photo or video of yourself. You can either share on our social media channels or you can send to: sec@dystonia-europe.org
We will share the photos and stories we receive.
Our other initiative during awareness month is the Spot Dystonia series where you will find highlights from the findings of the Dystonia Survey run by Prof Maja Relja, School of Medicine, University of Zagreb, Croatia and Dystonia Europe in 2017-2019 to find out about access to diagnosis, treatment, and quality of life of dystonia patients. The survey had over 3000 participants in European countries, and included all types of dystonias. The survey highlighted the lack of knowledge among the medical profession and how it affects dystonia patients and access to diagnosis and treatment.
This post below is an excerpt from the findings of that survey, Relja et al, EAN Oslo 2019: http://bit.ly/dystonia-survey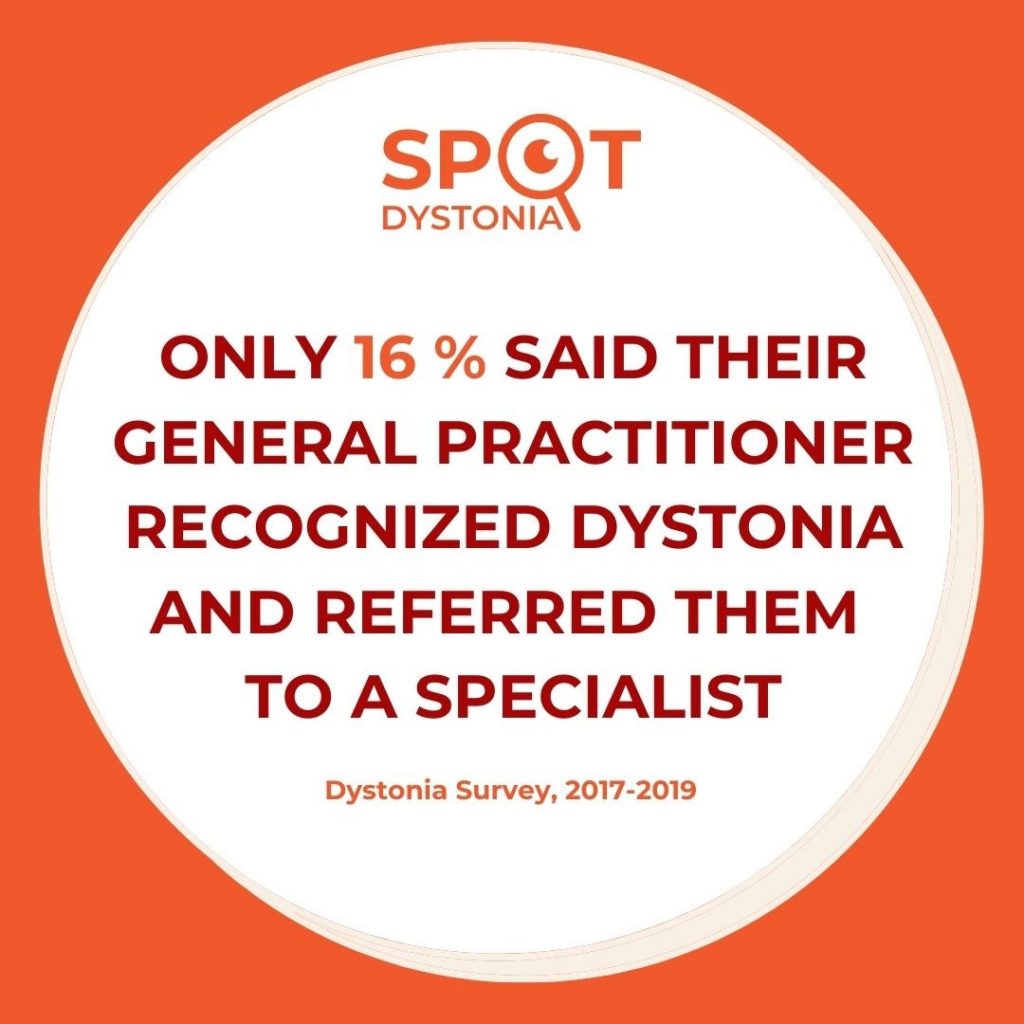 Please help us share these messages to increase awareness of dystonia.
Make sure to follow us on our social media channels (Facebook, Instagram, Linked-In, Twitter and YouTube). Every day of the month there will be a post on dystonia. Along with the initiatives above there will be posts covering: dystonia facts, inspirational quotes and dystonia patient stories.
We invite you join us and together let's make dystonia better known.
Monika Benson
Executive Director