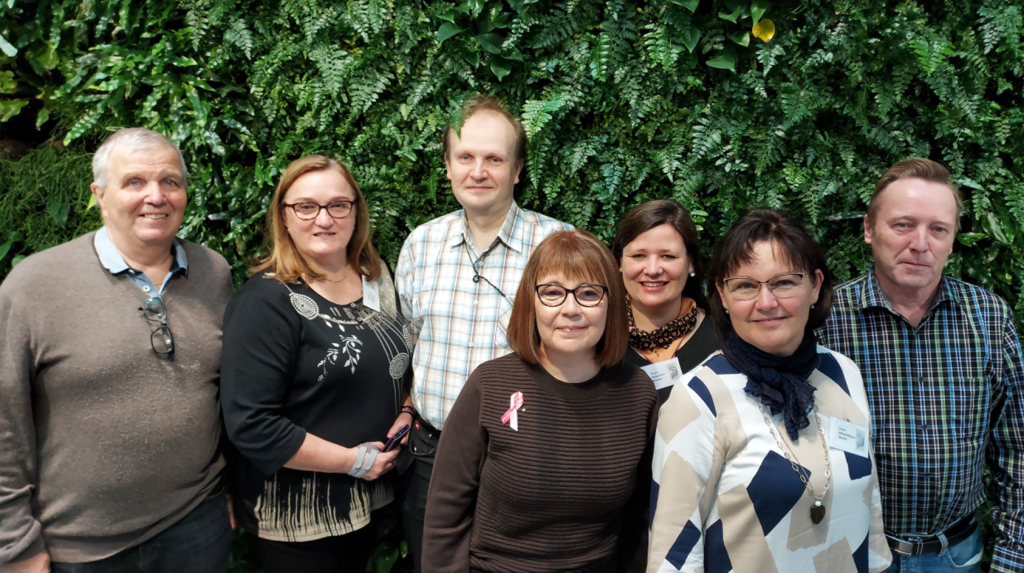 During Dystonia Days the Finnish association had an annual meeting where Jukka Sillanpää was re-elected as a president for the period 2022-2023. Annually half of the board (and vice members) are to be elected. In the picture (from the left) Pekka Karimerto, Taina Lehtinen, Jukka Sillanpää, Sari Kuja-Kyyny, Paula Happonen, Leea Sihvo-Rajala and Martti Ketonen.
Photo: Tytti Svetloff, Finnish Parkinson Association
September was, once again, a great dystonia awareness month. Dystonia Europe's Dystonia-Days provided a good start for the month with a varied webinar. We arranged another dystonia webinar in collaboration with the Finnish Parkinson Association. The second webinar was conducted in Finnish as the local language is greatly preferred among our members.
The dystonia awareness month culminated in the Finnish Dystonia Days which took place in the capital of Finland, Helsinki. The venue was a new Pasila railway station with a great mall consisting of dozens of stores, restaurants and a hotel. Pasila has good accessibility by local and long-distance trains. The easy accessibility was highly appreciated by the participants. Sokos Hotel Tripla provided an excellent setting for the Dystonia Days as well.
Dystonia Days attracted approximately 60 participants to the scene to enjoy the program, meet other members and experts – and furthermore, get and receive support among the other people suffering from dystonia.
The program was constructed to cover issues from neurological aspects and dystonia research to physiotherapy, pain, and mental well-being. Having enough breaks was difficult to achieve as all presentations received a lot of questions and interest.
Dystonia research seems to progress at a slow pace. The first speaker, Rebekka Ortiz, finished her dissertation last year. The second speaker, Aleksi Kokkonen represented Turku PET Center, where they utilize magnetic resonance research methods to understand mechanisms causing dystonia. Both Ortiz and Kokkonen stated that mechanisms behind dystonia – especially cervical dystonia – can be more complex than previously assumed. The research is still going on. The Finnish Dystonia Association is supporting the research by conveying invitations to the members to participate in the experimental research.
Due to the current Covid-19 situation, the traditional Jump for Dystonia picture was decided to be taken in 2022, at the earliest.
Text and pictures: Jukka Sillanpää
President Finnish Dystonia Association and Board Member DE