Deep Brain Stimulation (DBS) is a safe and well-established therapy that can alleviate the symptoms of dystonia. When used in conjunction with visualisation software, such as GUIDETM XT, it becomes a more efficient and effective therapy.
Following on our recent newsletter in Dystonia Europe (Spring 2021 Edition, page 9-10) presenting the benefits of GUIDETM XT by Prof Volkmann, Dr Reich and Dr Capetian1, we wanted to provide patients with the same platform to highlight their experience.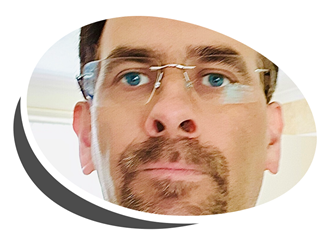 "I was 9 years old when my teacher first noticed that I was not working properly, because of my legs. She called my parents and we went to the doctor, but they did not know what was wrong". As his        symptoms worsened, he started walking on his toes. Mark was prescribed a muscle relaxant in addition to Sinemet (a Parkinson's disease medication), but at this time they could not establish a diagnosis,
"I was walking on my toes between the ages of 9 and 11 and I was taking 18 tablets per day, it was a really trying time ".
At 11 years old, Mark finally met a specialist in Newcastle, close to where he lived. "The specialist made me walk down the corridor, and as soon as he saw me walking he told my family that I had dystonia and as my mother was there with me, he also informed her that she had dystonia too, even if her was not as pronounced as mine".
This was a life changing experience for Mark. To finally have a diagnosis meant he could finally receive the correct treatment. "The doctor put me on Trihexyphenidyl, and I no longer stood on my tip toes. This was the first time I was walking properly.   I was 11 and I hadn't walked correctly for 2 years between the time I had my first symptoms and the time where I was properly diagnosed".
Mark's first symptoms of dystonia in his neck appeared when he was 18 years old. For 12 years, between the ages of 18 to 30, Mark had to content with his neck being turned to one side. The continued worsening of his condition meant the next 8 years were a particularly challenging time for Mark. "When I was 30, I was doing a lot of manual labour in my job and I was working my neck muscle a lot. At this time is where I started to be in pain all day and that it became really difficult to cope with my condition".
At 38 years old, Mark's sister pushed him to see a specialist again.  He was prescribed botulinum toxin therapy injections to stop his nerves from causing his muscles to contract. Even after a course of six injections separated by 12 weeks between shots, he had seen no improvement in his condition. Finally, Mark was referred to a Deep Brain Stimulation (DBS) treatment centre in 2017. "I was 42 years old by that time and I had to wait a year to have the surgery done".
Mark's treatment with DBS transformed his life. "DBS helped with all my symptoms. I could walk properly again, but the best thing for me was that the pain in my neck had gone.
I hadn't been able to look straight when talking to people prior the DBS surgery and I was so embarrassed and ashamed of it, that it was stopping me from living a normal life. So in that sense the DBS surgery really changed my life, it gave me back my confidence, and I did not have any pain."
As time passed some of Mark's symptoms, such as his speech, had began to worsen. After 2 and half years, he went back to see his DBS team. "I got programmed with some new software they called GUIDETM XT, for the first 2-3 days my speech actually got a bit worse but after that it improved and a few days later my speech was completely normal again and all of my other symptoms were well controlled and I was still pain free".
GUIDETM XT a Boston Scientific visualisation software. It uses images of your brain taken at the time of the surgery and provide the DBS programming team with a 3D representation of your Brain. This provides your DBS team not only with your brain anatomy but also your specific lead placement. Using these new tools allows the DBS team to offer you a more personalized treatment, allowing them to find the best outcomes for you faster.
Whilst the improvement in his symptoms was such a dramatic development, another positive point of being programmed with GUIDETM XT for Mark was it has reduced the frequency that he has to go to the hospital. "I am going less to the hospital since I get programmed with GUIDETM XT. Before I was going there every 3 months, but I am now going every 6 months and if at my next appointment everything is still going well, I won't have to go back there for a year, which I am really happy about".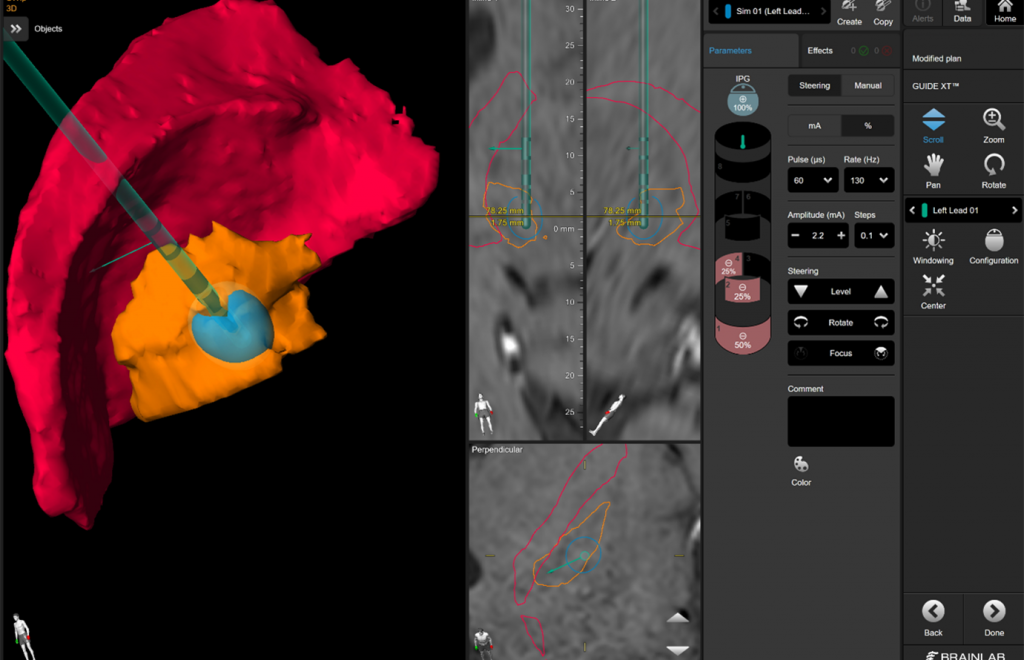 GUIDETM XT software with a representation of the left Globus Pallidus Internus (GPI, in orange. GPI is known to be the target for dystonia) with the electrode (green) in place. The surrounding structures are segmented for patient's specific anatomy. The programming settings created by the clinician are displayed on the right side of the screen and represented in blue on the left side as the region that will be activated to provide the best outcomes for this patient.
Given the differences that can be achieved through generalised vs personalised medicine, this form of programming, using visualisation, is more likely to become the new norm. Mark was highly supportive of this idea. "Medical companies should continue to develop software that helps patients to have a more personalised therapy like GUIDETM XT, as there are different types of dystonia and not everybody has the same symptoms, take my mother and I for example, so I think it is really important. Patients need to be aware of this new programming software. All I can say is that it is a miracle basically, and I stand there sometimes forgetting how it was before. I will not let them change anything. I feel so much better in myself".
Do not let your symptoms take control of your life – If you would like to know more about DBS therapy, please don't hesitate to speak to your doctor or neurologist to be referred to a specific DBS centre to review your eligibility for this treatment. To find out more about Boston Scientific latest technology, Vercise Genus™ DBS system and GUIDETM XT, please visit: the Boston Scientific European website or ask your DBS centre.
"CAUTION: The law restricts these devices to sale by or on the order of a physician. Indications, contraindications, warnings and instructions for use can be found in the product labelling supplied with each device.
Products shown for INFORMATION purposes only and may not be approved or for sale in certain countries. This material not intended for use in France".
Reference:
https://dystonia-europe.org/wp-content/uploads/2021/05/DE-Newsletter-1-2021-Spring.pdf