COVID-19 has wreaked much havoc over the past year in Europe and beyond. For us at Dystonie.be, the Belgian association for dystonia patients, the biggest health crisis in living memory proved to be a cloud with a silver lining. Online meetings allow us to connect with members in all parts of the country.
You might even say the restrictions were a blessing in disguise for us. Before the pandemic, we organised all our activities separately in the westernmost and easternmost parts of the country.
Long before facemasks, hand sanitizer and social distancing became part of our everyday lives, the year 2020 held a special significance for us at Dystonie.be, as it marked our 25th anniversary. We had planned a great celebration together with our members, sponsors and medical professionals,
but soon it became apparent that we would have to cancel all our plans. No silver jubilee and no other activities either, as meeting up physically at all was out of the question.
Our hearts sank: a whole year with an empty agenda and nothing to fill it, would our members put up with that? Was there nothing we could do to reach out to them?
It didn't take long for us as board members and volunteers to get acquainted with the finesses of online meetings – there really wasn't much of a choice! We still have to remind each other occasionally that someone's talking without turning on the mic first, only for the speaker to worry whether everyone can actually hear them. But practice makes perfect, and nowadays our board meetings run smoothly and swiftly. If that worked, could we perhaps conduct our member activities online as well, we wondered. As it turns out, our doubts were unfounded: yes, we could! And more importantly: so could our members. We had feared that the hassle of preparing for an online meeting would put off many of our elderly members, but this could not have been further from the truth.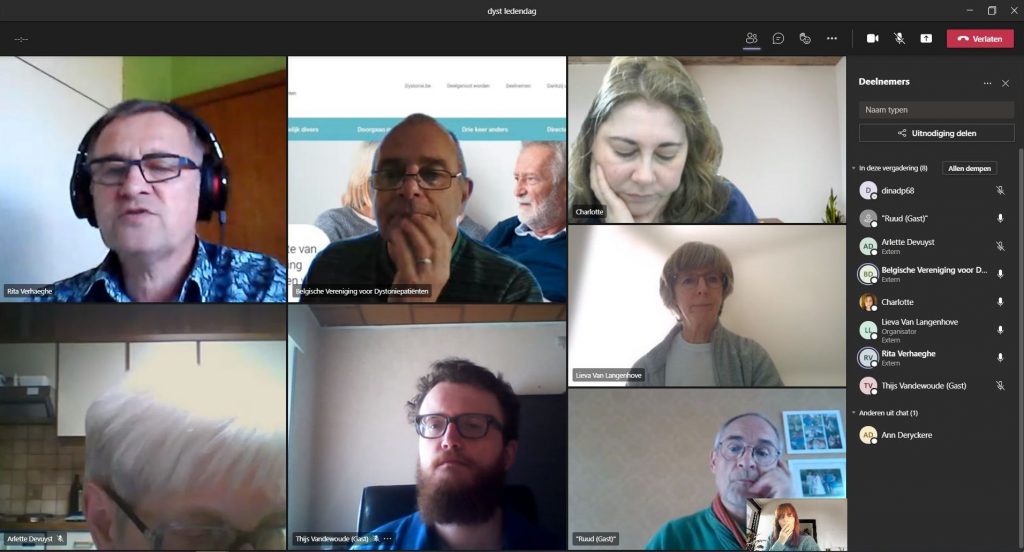 To our pleasant surprise, patients both young and old joined us for a 'dystoniebabbel' ('dystonia chat') on 27 February and again for our members' meeting on 27 March.
Moderated by our board member Lieva, both meetings went as smoothly as we could have hoped.
Clear rules and etiquette were established from the start, and though there were some inevitable technical hiccups, we came away from this new experience with the feeling that our members appreciate our efforts to organise activities, in spite of the limitations imposed by COVID-19.
You might even say the restrictions were a blessing in disguise for us. Before the pandemic, we organised all our activities separately in the westernmost and easternmost parts of the country.
It spared many patients a long journey and still gave them a chance to attend. On the other hand, this had the distinct disadvantage that there were very few occasions where all our members could gather in one place. Moreover, for some people with severe forms of dystonia, even attending our meetings physically was out of the question.   Online meetings have removed these barriers. No matter where they live, patients can log on, join the discussion and exchange experiences and health tips.
And so eventually we did get to celebrate the 26th anniversary of our association. It may not have the same ring to it as a 25th anniversary, but that didn't bother us in the least. Our treasurer Paul gave a brief overview of the history of our association from 1995 until the present, while Professor Patrick Santens (UZ Gent), member of our Medical Advisory Board, talked about dystonia throughout the ages. Many images, descriptions and other evidence show that our ancestors were aware of the symptoms of dystonia, even if they lacked the medical knowledge to formulate a correct diagnosis, let alone develop an efficient treatment.
That would take many years, until the end of the 20th century to be precise. 'It is no coincidence that the Belgian Dystonia Association was founded at a time when dystonia was identified as a neurological disorder rather than a mental illness', Professor Santens noted, crediting Dr David Marsden for this scientific breakthrough.
Finally, it was time to look towards the future, with the unveiling of our new logo. The colours red and blue symbolise tension and relaxation, the mirrored D's (for dystonia) refer to the two brain hemispheres. This new logo features prominently on our new website  (www.dystonie.be). However, this website is more than just bells and whistles. With poignant testimonies, reliable information and useful links, we want to become a reference point for patients, caregivers and everyone in the Dutch-speaking part of Belgium who wants to know more about dystonia.
After more than a quarter of a century, Dystonie.be is going stronger than ever. Amidst the COVID crisis, we have embraced the opportunities created by new technologies to stay in touch with our members. Yet, no Zoom call or WhatsApp group can wholly replace the sensation of genuine, face-to -face human contact – or a real silver jubilee party, for that matter. But party we will, sooner or later.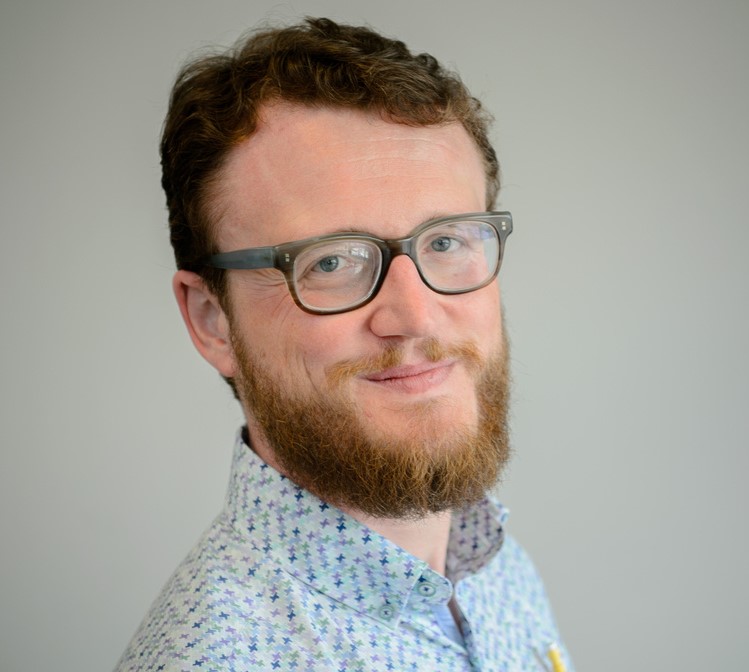 Thijs Vandewoude, Belgium Dystonia Association