Dystonia Europe is a member of EFNA, European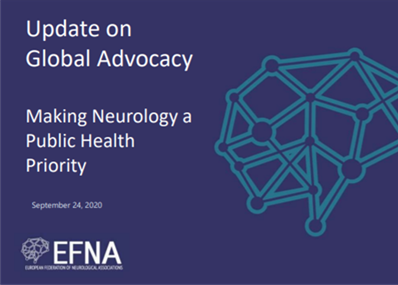 Federation of Neurology Association and attended a virtual meeting about an ongoing project on Global Advocacy. The goal of the project is the development of a coordinated and inclusive strategy to ensure that neurology becomes a global public health priority.  The aim is to have concrete policy actions that will bring hope and solutions for people across the world. The 1st phase of this project is in process while the 2nd phase is scheduled to take place in 2021 and 2022.
Neurological disorders have the highest prevalence, biggest disability and greatest cost. The investment  in care and research does not match the soaring burden.
EFNA along with their members call on decision-makers to change this and acknowledge that Neurological action plans are needed to future-proof the healthcare systems.
1 in 3 people will have a neurological disorder during their lifetime, examples are migraine, epilepsy, movement disorders like dystonia, Parkinson's and tremor, just to mention some.
Governments and public policy makers need to take urgent measures to reduce the risks and impact of neurological disorders. With this project on global advocacy for neurology EFNA and stakeholders will create documents based on data to present for MEP's and other policymakers.
Merete Avery
Operations Manager
Dystonia Europe