In September 2020 we had the members' meeting of the Faroe Islands. The meeting was held at Hafnia Hotel in the middle of Torshavn.
We ended up being a little group of members at the meeting, Covid-19 and the fear of participating in  social groups had its impact. But it still was a very  nice day and evening.
We started out with some information from the board of the Danish Dystonia Association about the time we are living in right now and about our trea-surer having to be on long-term sickness leave. But we were also informed about the new board members and the future for our national association. We said goodbye to Simona who has been the contact for the Faroe Islands for many years, and now the time has come to find a new contact person.
Then we had the pleasure of having the Executive Director of Dystonia Europe, Monika Benson with us on-line talking about Dystonia Europe, what they work for, what plans they have, background and development of the organization and a great deal of  interesting information about Dystonia Europe.
At the end of the session Monika also gave us the news, that the Dystonia Days 2021 will be held in Copenhagen, Denmark (if possible considering the Covid-19 pandemic and its development). *
We are very happy within the Board about this news and we are looking forward to helping in the planning and execution. Pia Vejle is the coordinator for the Danish board and will help Dystonia Europe as much as possible. *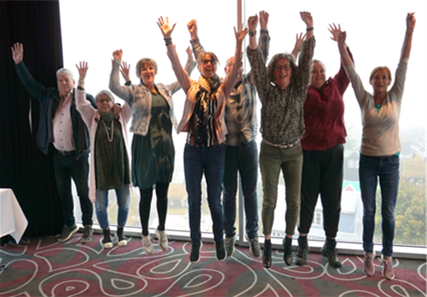 Then during the break we took time for some JUMP for Dystonia pictures. They are now on our Facebook page. In our next newsletter we will tell you more about the meeting and about Monika's great session. For the first time we gave our members the opportunity to hear some of the information the board members get from Dystonia Days. I hope that in the future we will be able to hold a similar session at members' meetings in the rest of Denmark.
After the meeting we had a delicious dinner with live music from Kasper Buch and Nigel Ray Beck and around 21´o'clock the members' meeting 2020 ended.
Pia Sörensen Vejle
Chairwoman
Danish Dystonia Association
 *At the last Board Meeting of Dystonia Europe on 26   November it was decided that the next D-DAYs 2021 will take place on-line, and therefore unfortunately not in Copenhagen, Denmark.  
Due to the recent developements of the Covid-19 pandemic, the board agreed that it is not possible to organize any face-to-face meetings for the next few months. We are very sorry about this but the health and wellbeing of our team, members and partners are the most important.