Dystonia Europe held its 27th Annual General Assembly on 7 June. This was also the first time our General Assembly was held on-line. There was much planning ahead on how to hold the meeting on-line using the application Zoom.  We still think face-to-face meetings are the best way to meet with our members. It is the time when we connect, share ideas and experiences, have a lot of fun and get to know each other better. Unfortunately due to the Covid-19 pandemic it was not possible this year.
Dystonia Europe President Adam Kalinowski welcomed all and then everyone present at the meeting  introduced themselves. Dystona Europe has 22 member organisations from 18 countries and at the GA 16 member organisations were represented. Adam also gave some practical information before he gave the word to Executive Director Monika Benson, who gave an update on Dystonia Europe Activities and Projects. This was done by sharing screen with all participants showing slides from DE.
DE is a very active organisation and you can read more in the latest newsletter 1-2020 about the latest news, research updates and activities from around Europe and beyond. From 2020 we will have 3 newsletters every year instead of 2. If you would like to receive our newsletter by e-mail, you can sign up here https://my.sendinblue.com/users/subscribe/js_id/3lese/id/1 .
There is increased activity on the various DE social media channels like Twitter, Instagram, Facebook, Linked-In and YouTube. Especially during these times when many people may feel isolated it is great to be able to stay in touch on-line.
Formal documents such as Annual Report 2019, Final Accounts 2019 and Minutes from the GA 2019 were sent out well ahead of the meeting according to the Statutes and were approved by the delegates. The Annual Report will be available this summer on our website.
DE IT Advisor Eelco Uytterhoeven gave a presentation on MyBrainNet and the development of the updated version MyDystonia 2.0.
MyDystonia Ambassador and Secretary of DE, Gill Ainsley spoke about the MyDystonia Ambassador meeting in Newcastle last October 2019.
Prof Maja Relja, University Hospital Zagreb, Croatia gave a short update on the status of the European Dystonia Survey and the VoT – Value of Treatment project together with EBC – European Brain Council. The results of the study may influence the management of dystonia in different countries througout Europe. The data will be
ready by the end of the year. Maja reported on the challenges following the recent earthquake that damaged the old city of Zagreb where the University Hospital is located.
Monika shared some of the plans for the September Awareness month and how we will work on sharing dystonia facts, inspirational quotes and dystonia testimonies throughout the month. There will also be an activity for all to take part in and more information will follow.
Adam thanked all the participants for a very good meeting and we all said goodbye wishing each other a happy summer!
Merete Avery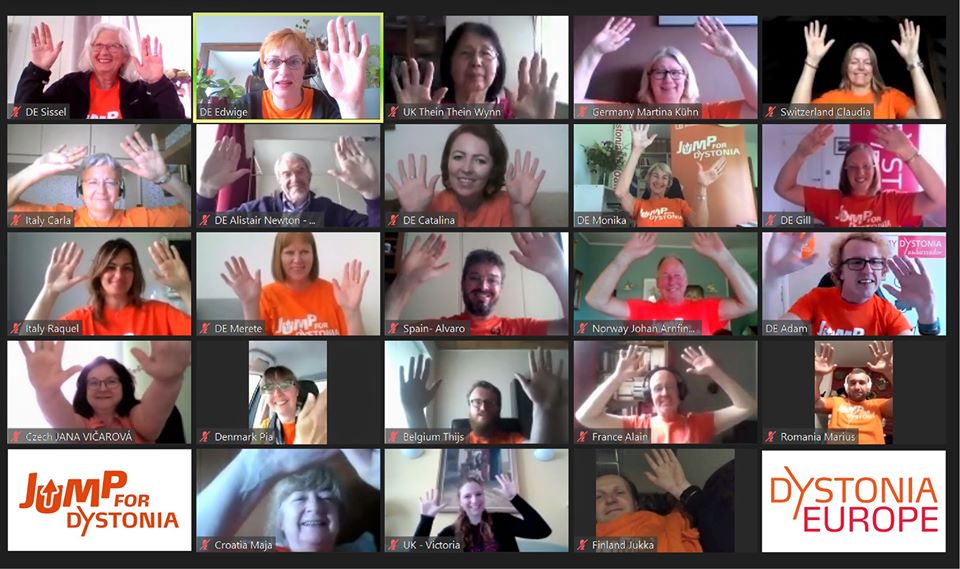 The participants at the online General Assembly 2020