My name is Catalina Crainic and I am one of thousands of cervical dystonia patients.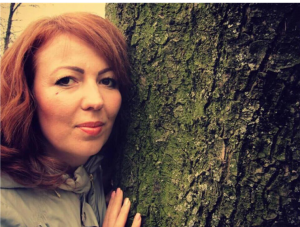 What is your work experience and how does it relate to dystonia?
My experience was a new way of my life, it is an experience from which I have continued to learn. At first everything was confusing, unclear and hopeless, then life provided me with experiences that define me as a person without dystonia I couldn't have been me, the present one.
Over time I learned to live with dystonia, managing it so that it does not take over my entire person and daily life. When I became ill, there was no access to treatment in Romania for people with dystonia and the path to diagnosis was quite difficult. I went to several neurologists, and I received the diagnosis only after 1 year and a half. I received treatment for 4 years in Hungary and it costs a lot of money.
My husband had 3 jobs in order to support our family, it was very hard but otherwise I could not benefit from treatment. In a short time I realized that I'm not the only one who goes through something like this so I looked for people who were in the same situation like me.
I found the Association Children's Joy which was founded by Sabina Gall before she suffered from Dystonia and was intended for children from vulnerable environments until Sabina became sick. Then its activity was directed to people with Dystonia due to Sabina's experience.
I got in touch with Sabina and her mother, I felt that I should get involved in the fight that they had started.  I was involved in their work, I made requests to authorities by myself and together with the association, various events, meetings with patients, all in order to obtain botulinum toxin treatment, enclose for the degree of disability and other rights for patients so that their life and ours would be better and have access to treatment. After 4 years of attempting, we succeeded and received a positive response from the authorities. The botulinum toxin treatment was finally approved and our work was not in vain. After a while Sabina's situation got worse and I needed to take over the association's leadership. I moved the activity of our association to the city where I live, Timisoara, where together with volunteers of the association, I set up and renovated its headquarters, where we carry out painting workshops for children to pay the expenses of the association. Here we often have informative meetings with patients, groups or individuals and various activities for them. Currently we want to arrange the space for rehabilitation workshops for people with Dystonia.
Why do you like helping others?
I think that helping others with various problems is a natural thing for me, it is the greatest joy. I went through many difficult situations, I learned to manage them and I just want to share them so that those who come on my path and ask for my help can easily access what I couldn't access when I got sick. The fact that I guide people towards specialists and access to treatment, that I give them information that will make them more easily overcome the problems caused by dystonia, is a way of life for me, it's my way to show that life is worth living. Things done for others give me the power to move on, bring good people to my life and help me see that the good exists and it's free, it's just a form to express my gratitude for the good and support I received in my turn.
What are the benefits of working within the organisation in your country Romania and with Dystonia Europe?
Meeting unknown people who come up with a problem and I can help make that problem easier to solve or remove it, it is a feeling that cannot be described in words.
I was glad to be part of Dystonia Europe, first as a member and then as a board member, it is a privilege and an honor for our association. People in my country see this connection with our organization as a guarantee that what we do is good, we have  visibility at a European level. I know that our voice can be heard better and they have the guarantee that with other countries we can raise our voice together.
The work of the Dystonia Europe team is quite important, patients in Europe have access to concrete information from the specialists, it is a good opportunity to interconnect different countries. I would not see the world of dystonia without Dystonia Europe. Personally Dystonia Europe gives me hope that one day a cure for dystonia will be found and until then we are doing what we can to help patients with dystonia. This organization is like a mother who is trying hard to raise her children, educate and protect them with all her powers.
How do you like spending your free time?
There are many things that motivate me, especially my family, and then the thought that there are people who need my continued support, for this reason last year I started my university studies in psychology, because I think the emotional side has quite a big impact on people with dystonia. As we stay more optimistic, we can improve our condition. I consider that each person is unique, it is only necessary to discover and experiment, to explore what beautiful things life offers to them outside the problems related to dystonia.
What keeps you motivated on the tough days?
On hard days I think that there are only episodes that will pass, and then it will be better.  I will be able to continue my activities that I like, then it is time to do things that excite and relax me, I read a lot, I paint, I do handmade things, gardening, I like to take pictures, take small trips and to plan trips.
When I feel I am overwhelmed I withdraw into nature and painting, then come back with new forces to continue.
What makes you angry?
What make me angry is the injustice that causes imbalances in various situations, and discrimination. But I think that anger is a strong emotion that does nothing but stop us from thinking, so I focus on leading a life in balance, both with myself and those around me, and I try to create successful strategies to avoid producing situations that will unbalance me.
I strongly believe that it is within my power to build my future as I wish. The more I believe in my dreams, the more they can become achievable, I just have to believe and not give up, to fight for them and to enjoy every little thing that life offers me, and in the end when I will draw a line, after each fulfilled dream to have a heart filled with joy and to have our life is like a clear sky.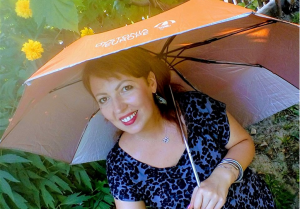 Catalina Crainic, participating in the "Under the Umbrella" campaign.
Catalina is the President of  Association Children's Joy and  Board Member of Dystonia Europe