On February 21 the first person  with a COVID-19 diagnosis  was reported in Lombardy, 60 km from Milan. Starting from that date, the number of persons infected with this virus began to increase rapidly in Northern Italy and slowly in the rest of the country. On March 11 our government decided for a lockdown of the whole country, with the slogan "stay at home". We were allowed to leave home only when strictly necessary, certifying the reason to the police who could stop us.
Our hospitals were full of persons with serious breathing problems, doctors had to take care of too many of them at the same time, for some weeks the healthcare personnel has been in the trenches against this new, scarcely investigated, sneaky virus.
All the routine visits in hospitals were cancelled, mainly in order to prevent  that patients could be infected, and also for diverting  most doctors  to assist COVID-19 infected patients.  Neurological departments have been closed too, therefore many dystonia patients could not have their botulinum toxin injections; since therapists could not work any longer in the hospital nor at home, also rehabilitation therapies were cancelled.
Many dystonia patients turned to A.R.D. asking for help. On March 13 we posted on our FB page a statement by our Scientific Committee who  informed that dystonia  or drugs against it do not increase vulnerability to COVID-19, the botulinum toxin does not reduce immune defense, DBS device is not infected by this virus.
We created a new e-mail address for questions concerning COVID-19 and Dystonia, so that patients who could not get in touch with their doctor could nonetheless get some answers. Furthermore, a toll free telephone number was established, where two hours a day, five days a week, a neurologist could give  information about this matter. Some doctors accepted video calls by patients, with the possibility of remote diagnosis and help.
We have increased the updating of our FB page, posting every day useful information, stories of patients, surveys or questionnaires which had a great success. As people were compelled to stay at home, using social media was a good way of spending time and being informed.
With the cooperation of LIMPE Foundation for Parkinson, some webinars have been acccomplished, during which neurologists, physiotherapists and representatives of patient associations ( Dystonia and Parkinson) shared experiences and information.
Another great help was quickly prepared by three doctors who are consultants in neurorehabilitation:  Anna Castagna (who is a neurologist too), Elisa Andrenelli and Marina Ramella. In a very short time they have carried out a guide for patients with dystonia, who were facing many problems due to being without their botulinum toxin treatment. The idea about a self-help guide was initiated by Dr.Francesca Morgante who works in London and is always a great supporter of our Association.
The title of the Guide is "Managing dystonia without Botulin toxin – exercises and tips". It gives some valuable advice and tips,  including breathing and stretching exercises, postural rules, yoga exercises and kinesio-taping . Many pictures and drawings illustrate all the exercises, therefore it is easy to use. It can be requested for free through at our website.
By mid April this guide was translated into English and posted on the Dystonia Europe FB page too. It is available here:  https://dystonia-europe.org/wp-content/uploads/2020/04/Managing-dystonia-without-botulinum-toxin.pdf
As the Coronavirus phase 2 has been put in place and hospitals are re-opening for usual treatments, our Scientific Committee has diffused some suggestions concerning both patients and doctors when they meet in hospital for visit or injection treatment; as their distance is obviously less than 1 meter, doctors must wear adequate protections and patients must be protected too, with the only exception of the skin areas to be treated. Up to now no interaction has been reported between COVID-19 and botulinum toxin, therefore patients previously infected may be treated after being tested negative to the virus.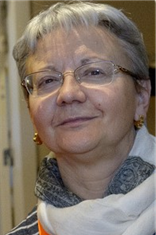 Maria Carla Tarocchi
Vice President, ARD, Italy