For this year's dystonia awareness month we are planning a relaunch of our popular Jump for Dystonia activity! With a new touch and special surprises for you!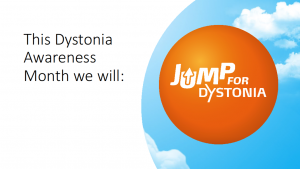 Look out for information when we come closer to September!
Left: Another fantastic Jump for dystonia Ambassador is Yvonne Maxwell in Ireland. She asks people to jump for dystonia and she jumps a lot herself.
Right: Here is Yvonne's sister in law, Colllette, jumping for dystonia in Ireland.