Last June EAN 2019 – the European Academy of Neurology Conference was held in Oslo. Dystonia Europe organised one of the very first sessions with live streaming – https://www.youtube.com/user/DystoniaEurope .
Merete Avery, Dystonia Europe, opened the session and invited two outstanding speakers: Professor Maja Relja from Croatia and Professor Kailash Bhatia from the UK.
Professor Maja Relja presented the preliminary results from her international online survey on the recognition of dystonia symptoms and accessibility to treatment. The survey was translated into 24 languages and closed last October. Until now approximately 3500 people with dystonia shared their responses. This gives an important insight into the quality of care in Europe. Additionally, Prof. Relja showed that in Croatia tremendous progress was made over the last 10 years since she started an educational program on dystonia as a part of the formal training for GPs. This shortened the time to diagnose dystonia and improved referral rate. The education is the key step to improve awareness of dystonia.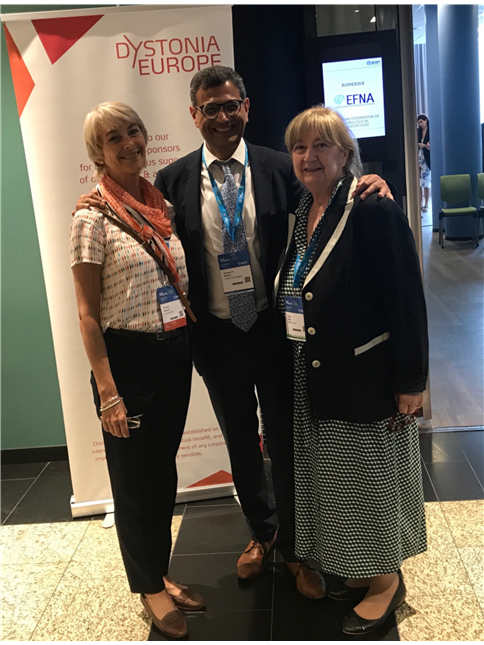 Professor Bhatia gave a lecture on "Clinical evaluation of dystonia". He started with a new classification of dystonia proposed by prof. Albanese et al. in 2013 (https://www.ncbi.nlm.nih.gov/pmc/articles/PMC3729880/). The main aim of the new classification is to improve clinical characteristics of dystonia and organise current knowledge regarding the etiology of dystonia. Additionally, the term "primary" and "secondary" dystonia is no longer in use and has been replaced by isolated dystonia and combined dystonia. The category of isolated dystonia includes: blepharospasm, cervical dystonia, oromandibular dystonia, laryngeal dystonia, and task specific dystonia. It's also worth mentioning that tremor is a common feature of dystonia and tends to affect the same body part. Combined dystonia is associated with other neurological or systemic signs (e.g. parkinsonism, ataxia, peripheral neuropathy). Professor Bhatia also presented patients videos to show peculiarity and complexity of the different types of dystonia for example: sensory gesture (such as touching one's chin) or task specific dystonia. He also elaborated on the diagnostic test that should be performed such as MRI or ceruloplasmin to exclude Wilsons disease. However, clinical examination remains irreplaceable. In terms of treatment he recommended botulinum toxin injections, which are considered as a golden standard. Injections should be performed in experienced centres. It's very likely that only the second or third treatment will be completely beneficial.
The dystonia session was a great success. The lectures were very interesting and educational. It was also a nice opportunity to meet the big dystonia family again.