Musician Dystonia is a focal task-specific variety of the disorder which affects up to two percent of musicians, both professional and amateur. This is a far greater occurrence than afflicts any other fine motor skill occupation. These "Writer's Cramp" dystonias can strike surgeons, chefs, dentists, tailors, writers, and even professional golfers when putting. As with most dystonias, there is no prevention or cure, and, to date, no completely successful therapies.
The Musicians With Dystonia Program of the Dystonia Medical Research Foundation (DMRF) was established in 1999 to provide information, support and medical referrals to this devastated population. In the last 20 years, we have contributed dozens of articles to neurological journals and music publications, and presented at countless symposia around the world. During our travels, a wonderful highlight has been meeting and visiting with the Dystonia Europe Presidents past and current, from the delightful Alistair Newton and Monika Benson to today's Merete Avery, and the dear, late Didi Jackson.
The DMRF has been funding research protocols to treat, and ultimately cure, dystonia since 1976. The Dystonia-afflicted clarinetist James Kilik, a wonderful friend of the Musicians program, left an incredibly generous bequest to the Foundation to fund musician dystonia research when he sadly passed away in 2015. Late last year, the first important grants were chosen and funded. They are:
Modulating the Functional Connectivity of the Cerebellum in Musician's Dystonia, Robert Chen, MA, MSc, MB BCh, MB BChir, University of Toronto  Dr. Chen is utilizing functional MRI to identify impaired connections between the cerebellum and parts of the brain that mediate movements, and will test whether these connections can be normalized by non-invasive brain stimulation.  This is the first study to test the effects of cerebellar stimulation in musicians with hand dystonia.
A Study to Identify Kinematic and Force Measures Capturing Impairment in Musician's Dystonia among String Players and Improvement with Retraining Therapy, Christine Kim, MD, Columbia University                                                                                                                                                                     Dr. Kim has studied retraining methods used with keyboard players, and hopes to better understand how dystonia affects timing, motion, and force of finger movements with string players. This research will then potentially develop successful retraining techniques for the very first time with violinists and other string performers.
We sincerely hope these exciting research initiatives prove beneficial to musicians afflicted with hand dystonia. There are also other important projects under DMRF medical review at this time. We will keep you apprised of the progress!
Glen Estrin, President, Musicians With Dystonia,
Dystonia Medical Research Foundation
Musicians@dystonia-foundation.org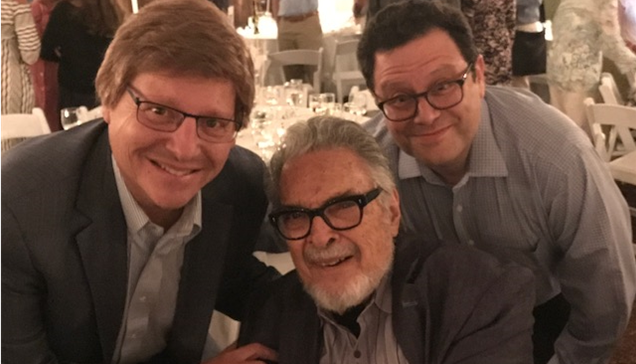 Glen Estrin with pianist Leon Fleisher (center) who is the most renowned musician with dystonia, and Steven Frucht, MD, the movement disorder neurologist, Head of Movement Disorders at New York University.