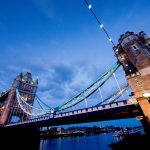 The 26th Dystonia Europe Annual Conference and the D-DAYs 2019 will take place at the Novotel West in Hammersmith, London. The venue is only a 20 minute underground ride from the airport and 15 minutes from central London.
The meeting starts on Friday July 5thwith the Dystonia Europe Annual General Assembly.
On Saturday July 6th is the actual conference with a full-day programme.
The programme and information on how to register will soon be available. The event is a collaboration between Dystonia Europe and The Dystonia Society in the UK.
We promise a different and special D-DAYs hope to see you in London.
Welcome!