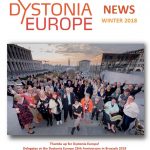 Dear all,
First of all I would like to thank you all for a great year. A year when Dystonia Europe celebrated its 25th Anniversary. A milestone that many of our member associations also have reached.
This year we saw an increase in our on-line activities during dystonia awareness month and that is very much thanks to you, all our followers, who share and comment and take part in the discussions. We are already looking forward to awareness month 2019 and how we can all work together again.
In 2019 we will award the 9 th David Marsden Award. Application deadline is 31 January 2019 and the award will be presented at our D-DAYs in London next July. This is our annual event and for the first time ever the theme will be more focused on young people living with dystonia. We hope to see many participants of all ages there.
We are very grateful for all the great work that is taking place around Europe for dystonia patients and their families. Together we are stronger and it is only by working together we can make a difference for dystonia.
Now I wish you all a wonderful and relaxing holiday season. Take good care of each other and hope to see you in 2019.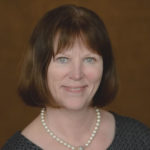 Merete Avery
President
Read this story and many more in our Summer newsletter. Download this now!